Grab bag:
Michigan's state parks are starved of funding
,
Yesterday's Detroit Free Press had a column by sportswriter George Puscas remembering a little of his 65 year career
,
Engler talks about Michigan's economy
.
New Urbanism in Northwest Michigan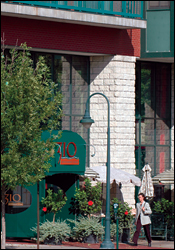 PHOTO BY MLUI/GARY L. HOWE
The Michigan Land Use Institute has a special report that documents how rising gas prices, escalating traffic congestion, and a rapidly growing population eager for a more sensible, healthier lifestyle are fueling that interest in walkable neighborhoods. The feature looks at how New Urbanism can curb the rapidly worsening sprawl in northwest Michigan (the state's fastest growing) and also help to pre the scenery and natural resources essential to its economy.
Read Going to Town: New Urbanism Arrives in Northwest Michigan in the MLUI
Also see Regional New Urbanism Resources
St. Clair Students Tune In
The Times-Herald reports on the efforts of the St. Clair County Regional Educational Service Agency, by which all county schools now have the ability to take their students to different worlds without ever leaving their classrooms. It's an interesting look at the potential future of education where students can visit zoos, question experts and observe procedures like open-heart surgery.
Read Students connect to the world without leaving the classroom in the St. Clair Times-Herald
Delphi Asks to Scrap Contracts, Unions Fire Back
The Detroit News reports that in the first day of hearings in U.S. Bankruptcy Court, Delphi Corp. asked for the authority to scrap its contracts covering 33,000 blue-collar workers. Unions and other stakeholders. The UAW and other Delphi unions claim the parts supplier is using bankruptcy as a tool to reduce labor costs.
Read DELPHI, UAW CLASH in the Detroit News
Protecting the Lake Sturgeon
The Traverse City Record-Eagle has a feature about researchers and volunteers who are working with the Black Lake population of lake sturgeon - Michigan's lone naturally reproducing inland lake sturgeon population. The volunteers include Sturgeon For Tomorrow, who patrol the river banks for poachers. Sturgeon are an ancient fish that haven't changed since the time of dinosaurs whose numbers have been drastically cut by dams, poaching and over-fishing.
Read Guardians of an ancient fish in the Traverse City Record-Eagle
Small Business Insurance Bill Debated
The Lansing State Journal reports that a bill being debated in the Senate, the Health Insurance Marketplace Modernization and Affordability Act, would give small businesses greater bargaining power with insurance companies by allowing them to band together in health care associations that cross state lines to offer affordable insurance to workers. Michigan's Insurance Commissioner Linda Watters opposes the legislation because it would supercede Michigan law that prohibits small-business health plans from marketing their product to companies with healthier workers and not to companies with workers with pre-existing conditions.
Read Bill might cut small-business health insurance costs in the LSJ
#
posted by farlane @ 9:53 AM