Driving...
Fuel Economy:
revised fuel bill is more favorable to the auto industry
General Motors:
creative accounting allows GM to turn first profit since 2004
Detroit:
Penske named chair of Downtown Detroit Partnership
The Pistons' D:
Ben Wallace wins 4th Defensive Player of the Year award in last 5 Years
How Michigan Cities Rank for Business
MITECHNEWS.COM reports that the Detroit metropolitan area was ranked No. 59 on Inc. magazine's 2006 list of Best Large Cities to do Business, while Ann Arbor, metro Grand Rapids, Lansing and Flint cracked the Top 100 for medium-sized markets. The best small cities included Muskegon, Kalamazoo, Holland, Niles-Benton Harbor, Monroe, Jackson, and Bay City. The Inc.com feature includes this
really cool interactive map
. It's interesting to note that NONE of the top ten cities of any size are located in the Midwest.
Read Michigan Cracks Best Cities To Do Business List From Inc Magazine from MITECHNEWS.COM
Check out The Best Cities for Doing Business from Inc. Magazine
At the Eye of the Revenue Sharing Hurricane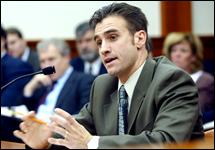 The Michigan Land Use Institute has a feature about the upcoming revenue sharing wrangle between state and local government. At the center of the issue will be Representative Dan Acciavatti, Republican rep for portions of Macomb and St. Clair counties the chairman of the House Appropriations Subcommittee for General Government. Michigan's cities, villages, and towns have seen less money for each of the last 5 years and Acciavatti has proposed in House Bill 5780 to add $15.2 million in the form of SHARE grants Ñ Supplemental Help for Accountable Result Efficiencies. SHARE would award Michigan communities more money if they take measures to contain health care expenses, retirement costs, or share police, fire, or emergency services with other local governments.
Revenue sharing is essentially a local government rebate on sales tax collections. Although one part of the revenue sharing formula is determined in the state Constitution, at issue in the budget process is the statutory share Ð the level actually appropriated by the Legislature through the annual budget process. Generally that amounts to roughly a third of $1 billion sent to local governments annually.
Read A Republican Champion For Cities and Towns from the Michigan Land Use Institute
Cox Talks About Suit Versus Tobacco Companies
Michigan Radio's Jack Lessenberry talks with Mike Cox about his suit against tobacco companies who have withheld almost $30 million they were supposed to pay Michigan. The companies claim they are entitled to do that because they are selling less tobacco, but according to Cox, the only grounds they have for not coughing up the money (sorry, couldn't resist) is if a state hasn't diligently enforced its own tobacco laws.
Lessenberry then wonders whether the state will ever be able to afford to let us quit smoking or wind up pushing cigarettes so the state can get its cut.
It's probably silly to think of the state pushing cigarettes ... right?
Read/Listen to Interview: Mike Cox from Michigan Radio
Read Essay: Deadbeat Tobacco
DeVos Endorsed by Michigan Chamber
The Lansing State Journal reports that Republican gubernatorial candidate Dick DeVos picked up the endorsement of the Michigan Chamber of Commerce. The chamber said it had chosen DeVos over Democratic Gov. Jennifer Granholm because of his experience as president of Ada-based Alticor Inc., parent company of direct sales giant Amway Corp., which has operations in China and India and exports to 80 countries. Granholm campaign spokesman Chris De Witt said it's no surprise that the chamber, which represents more than 6,800 employers, trade associations and local chambers of commerce, is backing the Republican challenger.
Read Chamber supporting DeVos' run for governor in the LSJ
Hey Detroiters: Write an Essay, Win a Bike
Model D reports that Detroit has been named as one of 11 BikeTown USA cities for 2006. The program (sponsored by Lipton) will donate bicycles to 50 Metro Detroiters based on the submittal of a brief essay that describes how winning a BikeTown bicycle would change the entrant's lifestyle. BikeTown is affiliated with Bicyling magazine and is targeted to more inexperienced riders.
Read Detroit named a BikeTown USA from Model D
Entry form and more info at Bicyling.com
#
posted by farlane @ 12:02 PM